You are here: Home » Why Choose Us
We guarantee a perfect finish, on time, every time when we repair your crashed car or commercial!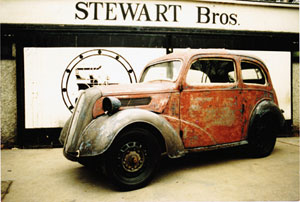 Stewarts Garage opened its doors for business in Dalkey in 1977 by Brothers Patrick & Paul Stewart and now have a committed, professional team of experts in crash repair and spray painting.
34 years on, and Patrick and Paul's sons are continuing the family business in both their Southside and Northside garages. The craftmanship has been handed down through generations of Stewarts. This generation of Stewarts has taken their craft to a new level with additional training and leading edge equipment. Pride in our crash repair work and that keen eye for a perfect finish is simply in the Stewarts DNA! Alan, David and Karen Stewart, together with their team, now run the southside garage in Walkinstown, Dublin 12. (100m from walkinstown roundabout). Our Crash Repair and Vehicle Spray Paint services are Main Dealer recommended and A.A. approved.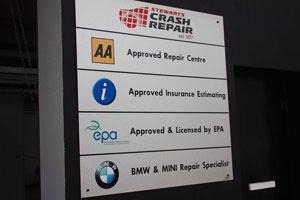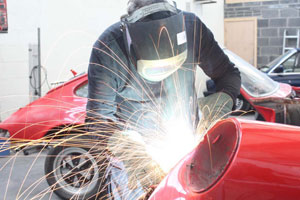 We will ensure that every vehicle that passes through our workshop will be repaired to the very highest of standards, without compromise…And that's Guaranteed.
We provide
Free estimates
Low bake ovens and water based paint with computerised mixing for colour accuracy
Courtesy cars / car hire arranged
Collection and Delivery from home or work
Repair Certificates issued on completion
All makes and models repaired
Cosmetic and minor repairs carried out
Testimonials
"I am quite particular about who I allow work on my Porsche Boxster. Stewarts Crash Repairs have consistently given me a top class repair and service."
Myles Thorn
'07 Porsche Boxster, Retail Customer
"We have been using Stewarts Garage, I think, since 1980. In that time we have needed to use them on a number of occasions, my wife, son and myself. I have complete trust and confidence in what they do."
David Espey
Customers of ours since 1980
To talk directly to one of our management team on your crash repair or spray painting requirement call us on 01 4604 923