You are here: Home » Paintshop
Once your cars bodywork has been repaired to it s original state, our paintshop team receives your car. Our experienced and qualified spray painters place your car in our low bake spraybooth where it is cleaned and prepared for respraying. We can spraypaint any blemish from a simple scratch or stone chip to a complete respray of a whole vehicle.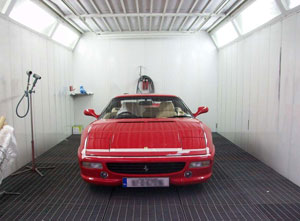 The spraybooth and low bake vehicle oven can cater for repainting any type of car, van or light commercial. We also spray paint and fit all styles of car body kits.
Our purpose designed bodyshop is kept spotlessly clean all of the time with the aid of our modern dust extraction system which helps to create a totally dust free environment. We use a Glasurit Paint System. Glasurit Paint is at the forefront of paint technology and it allows us to have the most current colours for all car manufacturers. We have a mixing room, where colour can be matched by computer formulation set by the manufacturer. With the world's largest colour library, we can ensure a perfect colour match for your vehicle. Our paintshop is Main Dealer recommended and A.A. approved.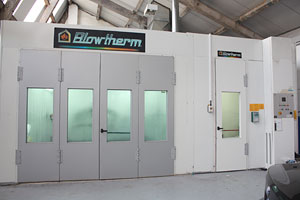 Our paintshop is audited by Certification Europe and The Environmental Protection Agency has licensed Stewarts Crash Repairs to operate our paintshop. We are proud to adhere to all environmental and waste disposal requirements.
Whether your car has been involved in a small tip or a major accident, or whether you require a complete re-spray, Stewarts Crash Repair will guarantee a perfect finish, on time, every time.
For friendly advice or a quotation on your car repair or spraypaint job call us on 01 4604 923