You are here: Home » Other Services
We not only provide Dublin's premier crash repair and vehicle spray paint services to cars and commercials, we do a lot more...
Claim management
Let us guide you through the process of liaising with your insurance to pay for your crash repairs. We will take all the hassle out of the process and will deal with all elements of paperwork on your vehicles insurance directly with the insurance companies.
Alloy Wheel Repair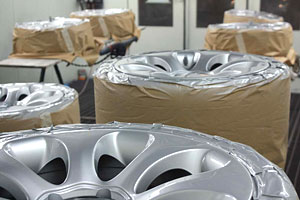 We are one of Dublin's only crash repair companies that provide a same day wheel refurb service. We can repair kerbing damage and scuffs to all types of alloy wheels.
Paintless dent repair
Paintless dent removal without the need for spraying, allows us to remove a dent from your car or commercial vehicles body work and restore your vehicle to its original form at a fraction of the normal cost.
Pre-purchase inspection
Before you buy your next car let us check it over. Our keen eye for detail will know if your car has had any previous repairs or been involved in an accident.
24/7 Towing Service
Accidents can happen at any minute day or night, we can pick up your vehicle and bring it to our secure, insured premises. 24 hour Emergency number: 087 77 77 003.
Valeting Service
When done periodically, a valet will enhance and protect your car's appearance. We provide interior and exterior valeting service. Bringing your driving experience back to feeling like you are driving a new car again.
We also provide a free valeting service for all vehicles that have been through our work shop for crash repair or spray painting.
5 Point Safety Check
Every vehicle which passes through our workshop, receives a free 5 point Safety Check. We will check the following:
Tyres
Brakes
Shocks
Lights/Levels
Wipers.
Car hire
We have access to a range of vehicles to keep you mobile whilst your car is being repaired
This is only a sample of the services available, for a complete list of our services or more information on your crash repair, spray painting requirements, or any other service call us on 01 4604 923